Sunday Mornings
At Salem
Traditional Worship – 8:15 a.m.
Contemporary Worship – 10:00 a.m.
MARK YOUR CALENDARS!
ALL SUNDAYS
January 6—March 3, 2019
ONE worship service at 9:00 a.m.
We will return to two services
Salem Lutheran Church Deerwood MN – a member congregation of the Evangelical Lutheran Church in America (ELCA) – is a church alive with vibrant
ministries, worship and a commitment to "love and
serve God by loving and serving people." Come as
you are, but know that the God of Jesus Christ loves
you too much to leave you that way. He wants to
mold you, shape you, and use you, so that you can make
a difference in his name. Come grow with us! A good
place to begin is worship on Sunday mornings.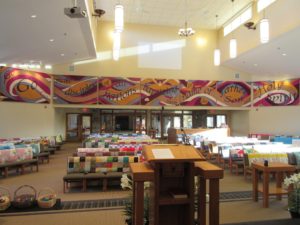 "Then, opening their treasure chests, they offered him gold, frankincense, and myrrh." – Matthew 2:11
"Now when all the people were baptized, and when Jesus also had been baptized and was praying, the heaven was opened, and the Holy Spirit descended upon him in bodily form like a dove. And a voice came from heaven, 'You are my Son, the Beloved; with you I am well pleased.'" – Luke 3:21-22
"When the steward tasted the water that had become wine, and did not know where it came from (though the servants who had drawn the water knew), the steward called the bridegroom and said to him, "Everyone serves the good wine first, and then the inferior wine after the guests have become drunk. But you have kept the good wine until now." – John 2:9-10
Epiphany, January 6th, is our Lord's coming out party. Jesus is made known to people outside his immediate family. 3 stories take center stage in this season. Wise men in the east, modern day Iraq, study the night sky looking for some sign, some message in the heavens. And then, one night, something new. A star in the eastern sky portends the birth of a king in Jerusalem. They take a trip to see this new king and to get a glimpse of the future to come. What they find fills them with awe and wonder and generosity. Years later crowds of Jerusalemites go out to hear John the Baptist preach by the river. Many are baptized by John for the forgiveness of their sins. Nobody submits to a "baptism of repentance" if their life is rich and full and without regrets. I wonder what they're looking for? And then John sees him – the one whose shoe he is unfit to untie. He is baptized. A voice speaks from heaven, and the Holy Spirit descends upon him like a dove. And John knows God is up to something new. In Cana, servants frantically search for more wine for the wedding reception. Their master will be humiliated if the wine gives out before the party's over. They can't let him be embarrassed on the proudest day of his life! They're not looking for an epiphany. They need a miracle. Much to their surprise, they get both. A miracle is a happy turn of events that saves the day, or changes a person's life situation. An epiphany is when the veil is lifted, and suddenly you see God in, with, and under events. Epiphanies are always unexpected. Our Lord breaks in to our one dimensional world of daily work and family schedules, of paying bills and preparing taxes, and nothing is ever the same again. Give us an epiphany, Lord. Help us to see you at work in our world. Fill us again with awe and wonder and surprise. – Pastor Mike
Upcoming Events And Announcements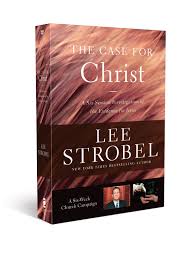 NEW STUDY COMING on Tuesday Nights in January, Lessons for Life.
Skeptics dismiss the Jesus of the Gospels by claiming there is no evidence. New York Times bestselling
author Lee Strobel disagrees. In The Case for Christ you will journey along with Strobel on a quest
for the truth about Jesus. You and your group will sift through fascinating historical evidence as you
weigh compelling expert testimony. In the end, participants may very well see Jesus in a new way—
and even, like Strobel, find their lives transformed. The Case for Christ begins at Salem on Tuesday
evening, January 15th at 6:00 p.m. and will continue through February 19. If you plan to attend,
please sign up at the kiosk or simply call the church office, 218-534-3309. Cost of the participant
book is $12.
IN STITCHES
meets on Tuesday afternoons at 1:00 p.m. to knit or crochet prayer shawls or other items

to be given in times of sickness or grief. Meeting times in the fellowship hall.
PIECEMAKERS

quilt group meets each Tuesday morning at 9:00 a.m. in the fellowship hall to make quilts for Lutheran World Relief, missions and people in need in our community.
QUILTING AT HEARTWOOD

,
meets to make quilts at Heartwood. Next date: January 3, at 6:30 p.m.
DIAPER MINISTRY
meets January 9th at 9:00 a.m. in the fellowship hall. You are welcome to come and help cut t-shirts to be made into diapers and other items.
SALEM WOMEN'S CIRCLE will meet January 10th at 9:30 a.m.
KOFFEE KLATCH
at Heartwood, meets Friday once a month, normally at 11:00 a.m. Next date: Friday, January 11th.
Come for devotions
and fellowship
with Pastor
WOMEN'S BIBLE STUDIES
Wednesdays, 6:30 a.m. in the library
Thursdays, 8:30 a.m. in the
conference room.
MEN'S BIBLE STUDY
– All men are welcome Friday morning at 8:00 a.m. in the conference room.
Salem Activities for the Kids!
Kids Club
Salem Kids Club will take a break for most of January, with our first day back at Kids Club on Wednesday, January 30th. Send an email to youth@salemdwd.org to get our email list for info on the Club! We will be working hard in January to plan fun (and educational!) activities for the kids for the rest of the school year. Your kids won't want to miss out!!
Sunday School
As we switch to one worship service for the winter months, we will continue to hold Sunday School during the sermon time of our 9:00 worship. All children are welcome in our mixed age class, where we play games, do crafts, and learn about Jesus while having fun! Feel free to email Whitney, our Faith Formation coordinator with questions about Sunday School or to get involved!
21276 Archibald Road – PO Box 100 – Deerwood, MN 56444
Telephone:

(218) 534-3309

Email: office@salemdwd.org
Telephone:

(218) 534-4962

Email: west@salemdwd.org Website: salemwestdwd.org
Telephone:

(218) 534-2945

Website: salemwestdwd.org