Sunday Mornings
At Salem
Traditional Worship – 8:15 a.m.
Contemporary Worship – 10:00 a.m.
Salem Lutheran Church Deerwood MN – a member congregation of the Evangelical Lutheran Church in America (ELCA) – is a church alive with vibrant
ministries, worship and a commitment to "love and
serve God by loving and serving people." Come as
you are, but know that the God of Jesus Christ loves
you too much to leave you that way. He wants to
mold you, shape you, and use you, so that you can make
a difference in his name. Come grow with us! A good
place to begin is worship on Sunday mornings.
"…the foremen … went out and said to the people, Thus says Pharaoh, "I will not give you straw. Go and get straw yourselves wherever you can find it, but your work will not be reduced in the least." – Exodus 5:10-11 "Remember the Sabbath day to keep it holy … on it you shall not do any work, you, or your son, or your daughter, your male servant, or your female servant, or your livestock, or the alien who is within your gates." – Exodus 20:8, 10b
As I write this it is the day after Summerfest. It is also the day we said "Thank you and Farewell" to Deacon Greg and Diane. These last weeks I've watched as dozens of people worked tirelessly to make Summerfest a great success, and to create a smooth transition at Salem West and Mustard Seed. They did all that in addition to everything else that they do here and at Salem West and at Mustard Seed every day. Thank you for all you do in Jesus' name here and in our community!
It's Labor Day weekend, a time we thank and honor the people who do all the things that get done every day. We honor those who build our roads and those who take away our trash. We honor those who grow our food to those who bag our groceries. Think of all the laborers who faithfully do their work, and how we all benefit from it! Our Lord commanded us to celebrate Labor Day every week – to take a day off from our labors and enjoy the good earth that God made. It's kind of funny that our Lord has to command us to do that, but apparently he does. We can get so wrapped up in all the day to day tasks of our lives that we never stop, we never notice and enjoy the gift of each day we have on this planet with the people God has given us. So God says, "If I can create and maintain the whole universe in 6 days and still take a day off every week, so can you. Or do you think you're more essential to the running of the universe than I am?"
I have a plaque in my office that a parishioner gave me. It says, "Good morning! This is God. I will be handling all of your problems today. I will not need your help. So, relax and have a great day!" She thought I was getting a little overinvolved, that I needed to know I wasn't that important. She was right. God's command to take a day off began way back when Pharaoh enslaved the people who produced Egypt's goods. When they asked for time off to worship he thought they were just being lazy. He increased their production quotas. You must produce the same quota of bricks, but you have to find your own straw to do it! It's no coincidence that when those slaves were freed, one of the first laws God gave them was a labor law. "Remember the Sabbath Day… 6 days you shall work, but the 7th day is a Sabbath to the Lord…" It's so important that it's number 3, right after having no other gods and honoring God's name! The 3rd commandment was not just for personal practice. It was also for employers. It was a reminder that their ancestors were underpaid and overworked. God says, when you have a chance to be in control, you must treat those who work for you differently. So, take a day off. Give your workers a day off. You deserve it. They do too. Our Lord will keep the world running in your absence. Enjoy God's good earth – Pastor Mike
Upcoming Events And Announcements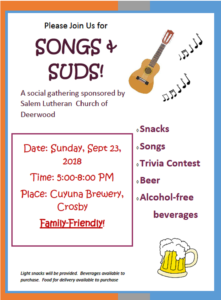 Women's Retreat: Registration forms for the Women's Retreat (Oct 12-14) are now in the kiosk in the narthex. There are 3 scholarships for women who might not be able to afford the registration fee. Contact Debbi in the church office for more information.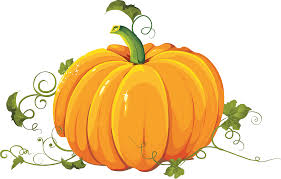 Trunks for Treats!
It's that time of year again! We are looking for volunteers for our annual Trunks for Treats event.
Trunks for Treats provides a safe, traffic free area for little ones to trick or treat. Individuals, families,
groups/friends or committees may set up their vehicles (trunks) in the parking lot l to hand out candy to
area trick or treaters from 4:30-6:00 pm. Please provide your own candy. Have fun decorating your car
and/or yourself (optional). If you prefer to hand out your candy inside, we will have tables set up to
display your goodies. No scary costumes please!
** New this year: We are inviting area businesses and churches to set up and join us in the parking lot!
Not interested in sitting outside on October 31st? We need help inside also. Hotdogs and beverages
will be served to kids and families in the fellowship hall. We'll need help setting up, serving, cleaning up
and of course welcoming families into our church.
There is a sign up sheet in the narthex. Please sign up if you are interested in helping. Contact Kris
Schmidt 218-851-1362 or Whitney Cragun 218-534-3309 with questions.
If you have little ones trick or treating this
year, be sure and stop by!

IN STITCHES
meets on Tuesday afternoons at 1:00 p.m. to knit or crochet prayer shawls or other items

to be given in times of sickness or grief. Meeting times in the fellowship hall.
PIECEMAKERS

quilt group meets each Tuesday morning at 9:00 a.m. in the fellowship hall to make quilts for Lutheran World Relief, missions and people in need in our community.
QUILTING AT HEARTWOOD

,
will meet to make quilts at Heartwood on September 6th at 6:30 p.m.
DIAPER MINISTRY
will meet September 12 at 9:00 a.m. in the fellowship hall. You are welcome to come and help cut t-shirts to be made into diapers and other items.
SALEM WOMEN'S CIRCLE will meet September 13th at 9:30 a.m.
KOFFEE KLATCH
at Heartwood, Friday September 14th, at
11:00 a.m. Come for devotions
and fellowship
with Pastor
WOMEN'S BIBLE STUDIES
Wednesdays, 6:30 a.m. in the library
Thursdays, 8:30 a.m. in the
conference room.
MEN'S BIBLE STUDY
– All men are welcome Friday morning at 8:00 a.m. in the conference room.
Salem Activities for the Kids!
Salem after school Kid's Club
Kid's Club Kickoff Day- September 12th 3:15-5:00
When: Wednesdays, 3:15-5:00 during the school year
(Kid's Club will not meet on early dismissal days)
Where: Salem Lutheran Church, 21276 Archibald Road, Deerwood MN 56444
What: Kids will learn a new skill or activity, along with a short Bible lesson, led by volunteers from Salem, and the community!
Who: Kid's Club is open to everyone! The activities will be geared towards grades 2nd-6th graders. Older kids are welcome to come and help out!
*With parent's permission, kids can take the school bus straight from CRES to Salem, where they will get off at the Deerwood park around 3:15/3:20*
There is no cost to participate, but for planning purposes please call or email Whitney at the church office for registration information, or with questions–218-381-2102 youth@salemdwd.org
START-UP OF SUNDAY SCHOOL: Sunday School at Salem this fall will take place during the sermon time at both worship services, 8:15 & 10:00. Children are welcome to come up front for the Children's Sermon, and then go with the Sunday School teachers to the education wing. Our goal is to keep Sunday School fun, educational, and engaging for all kids in our mixed age class, so each week may be different– sometimes with the lesson built into a craft, or with videos, songs, or games. We've designed this format keeping in mind the families who are here every week, those who join us once in a while, and for visitors too! All kids ages pre K-6th grade (and older!) are welcome in our class and will fit right in with our lessons/activities, centered around the Gospel message. We try our best each week to get the children back to the worship service prior to communion time.
21276 Archibald Road – PO Box 100 – Deerwood, MN 56444
Telephone:

(218) 534-3309

Email: office@salemdwd.org
Telephone:

(218) 534-4962

Email: west@salemdwd.org Website: salemwestdwd.org
Telephone:

(218) 534-2945

Website: salemwestdwd.org