Sunday Mornings
At Salem
Traditional Worship – 8:15 a.m.
Contemporary Worship – 10:00 a.m.
MARK YOUR CALENDARS!
December 23
ONE worship service at 9:00 a.m.
December 24
Christmas Eve
Candlelight Worship: 3:00 & 5:00 p.m.
December 30
ONE worship service at 9:00 a.m.
ALL SUNDAYS
January 6—March 3, 2019
ONE worship service at 9:00 a.m.
We will return to two services
Salem Lutheran Church Deerwood MN – a member congregation of the Evangelical Lutheran Church in America (ELCA) – is a church alive with vibrant
ministries, worship and a commitment to "love and
serve God by loving and serving people." Come as
you are, but know that the God of Jesus Christ loves
you too much to leave you that way. He wants to
mold you, shape you, and use you, so that you can make
a difference in his name. Come grow with us! A good
place to begin is worship on Sunday mornings.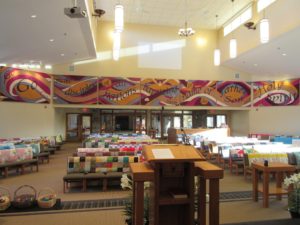 "For all the saints who from their labors rest, All who by faith before the world confessed, Your name, O Jesus, be forever blest. Alleluia!" "You were their rock, their fortress and their might, You, Lord, their captain in the well-fought fight; You in the darkness drear, their one true light. Alleluia" "But then there breaks a yet more glorious day; The saints triumphant rise in bright array; the King of glory passes on his way. Alleluia!" For All The Saints, vss 1,2,4 ELW #422
November begins with All Saints day and ends with Thanksgiving. Isn't that perfect? We begin by remembering all those who have gone before us, all who faithfully passed the faith from their generation to ours. It is a line of faith and witness that begins with Mary Magdalene and Peter and the other witnesses of the resurrection and has been passed from person to person all the way to us, the ones charged with carrying the faith to this and the next generation of believers. Who knows where the Spirit will carry the Gospel from here!
Thank God for each of the saints in Salem's community of faith. Thank God for the gifts and talents each has been given as we seek to serve our Lord in this time and place.
– Pastor Mike
Upcoming Events And Announcements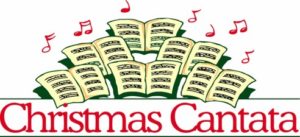 Christmas Cantata will be December 8th and 9th. If you would like to participate in the Cantata, practices are Monday evenings from 5:30 to 7:00 p.m. All are welcome!
Join us for our Christmas Make & Take
Wednesday, Dec. 12th we will be hosting our Christmas Make & Take for the whole Family! The
kids will work on hand made crafts, and go home with wrapped Christmas gifts for family and
friends! The Make & Take is from 4:00-6:00 (Kids Club kids will still take the bus from CRES as
usual). You are welcome to bring the whole family to work on craft projects as our supplies last (4-
5 projects per child)! All ages welcome- for pre-K children, we ask that a parent be present to
assist. Please call or email Whitney (youth@salemdwd.org or 218.381.2102), to let her know how
many of your kiddos will be joining us for the Make & Take!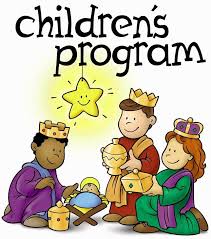 Sunday, December 16th we invite you and your kids to come and be a part of our children's Christmas Program! We will meet in the Classroom wing at 9:00 to practice and get dressed up for our rendition of the Christmas Story. Call or email Whitney (youth@salemdwd.org or 218.381.2102),, if you would like your Children to participate. All ages welcome! (for pre-K children, we ask that a parent be present during practice and willing to jump in and help out during the service if necessary)
New Year's Eve Family Night at the Hallett Community Center. Come for an evening of
swimming, skating, games and fellowship from 6-8:30pm. The cost is only $1 per person and you need not be a member of the HCC. Also, please bring any games you'd like to play and an appetizer potluck snack to share. Invite your friends! Welcome to all! Organized by the Cuyuna Ministerial Association.
IN STITCHES
meets on Tuesday afternoons at 1:00 p.m. to knit or crochet prayer shawls or other items

to be given in times of sickness or grief. Meeting times in the fellowship hall.
PIECEMAKERS

quilt group meets each Tuesday morning at 9:00 a.m. in the fellowship hall to make quilts for Lutheran World Relief, missions and people in need in our community.
QUILTING AT HEARTWOOD

,
meets to make quilts at Heartwood. Check the calendar for the next upcoming date.
DIAPER MINISTRY
meets November 14th at 9:00 a.m. in the fellowship hall. You are welcome to come and help cut t-shirts to be made into diapers and other items.
SALEM WOMEN'S CIRCLE will meet December 13th at 9:30 a.m.
KOFFEE KLATCH
at Heartwood, meets Friday once a month, normally at 11:00 a.m. Check the calendar for the next upcoming date.
Come for devotions
and fellowship
with Pastor
WOMEN'S BIBLE STUDIES
Wednesdays, 6:30 a.m. in the library
Thursdays, 8:30 a.m. in the
conference room.
MEN'S BIBLE STUDY
– All men are welcome Friday morning at 8:00 a.m. in the conference room.
Salem Activities for the Kids!
Salem after school Kid's Club
Kid's Club Kickoff Day- September 12th 3:15-5:00
When: Wednesdays, 3:15-5:00 during the school year
(Kid's Club will not meet on early dismissal days)
Where: Salem Lutheran Church, 21276 Archibald Road, Deerwood MN 56444
What: Kids will learn a new skill or activity, along with a short Bible lesson, led by volunteers from Salem, and the community!
Who: Kid's Club is open to everyone! The activities will be geared towards grades 2nd-6th graders. Older kids are welcome to come and help out!
*With parent's permission, kids can take the school bus straight from CRES to Salem, where they will get off at the Deerwood park around 3:15/3:20*
There is no cost to participate, but for planning purposes please call or email Whitney at the church office for registration information, or with questions–218-381-2102 youth@salemdwd.org
START-UP OF SUNDAY SCHOOL: Sunday School at Salem this fall will take place during the sermon time at both worship services, 8:15 & 10:00. Children are welcome to come up front for the Children's Sermon, and then go with the Sunday School teachers to the education wing. Our goal is to keep Sunday School fun, educational, and engaging for all kids in our mixed age class, so each week may be different– sometimes with the lesson built into a craft, or with videos, songs, or games. We've designed this format keeping in mind the families who are here every week, those who join us once in a while, and for visitors too! All kids ages pre K-6th grade (and older!) are welcome in our class and will fit right in with our lessons/activities, centered around the Gospel message. We try our best each week to get the children back to the worship service prior to communion time.
21276 Archibald Road – PO Box 100 – Deerwood, MN 56444
Telephone:

(218) 534-3309

Email: office@salemdwd.org
Telephone:

(218) 534-4962

Email: west@salemdwd.org Website: salemwestdwd.org
Telephone:

(218) 534-2945

Website: salemwestdwd.org