Worship @ Salem
or live on Facebook.

All ages are welcome!
Services are posted here and on YouTube Monday morning.
Salem Lutheran Church in Deerwood, MN – a congregation of the
Evangelical Lutheran Church in America (ELCA)
– is a church alive with vibrant ministries, worship and a commitment to "love and serve God by loving and serving people." Come as you
are but
know that the God of Jesus Christ loves you too much to leave you that way. He wants to mold you, shape you, and use you, so that you can make a difference in his name. Come grow with us! A good place to begin is worship on Sunday mornings.
Join us in worship on Sunday, September 18 as we offer time and talents to God's work at Salem!
During the sermon time, we will be invited to reflect on God's work in our lives and the ways we can join in the ministry of Salem. For those in attendance, the survey will be part of worship and we hand them in at the offering. If you worship with us online, you may download the survey here to participate with us.

Surveys can be dropped off at the church office, scanned and emailed to office@salemdwd.org, or dropped into the mail to Salem Lutheran Church, PO Box 100, Deerwood, MN 56444
Thank you for offering your time and talents to the Lord!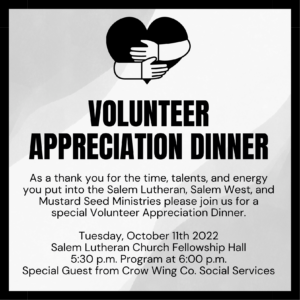 Volunteer Appreciation Dinner October 11
When: Tuesday October 11 2022
Time: 5:30 Dinner 6:00 Program
Where: Salem Lutheran Fellowship Hall
21276 Archibald Road. Deerwood, MN
RSVP: Please rsvp to the
link provided
, Church office,
or on the list when you log your volunteer hours.
We have invited a special guest speaker to share how the ministry you're involved with at Salem West and the Mustard Seed impacts the work of the social service network in Crow Wing County!
Upcoming Events
Contact the church office for more information. 218-534-3309
Small Group Ministries
Getting involved at Salem is easy. We'd love to see you at a Bible Study, fellowship, or volunteering in the outreach program!
21276 Archibald Road – PO Box 100 – Deerwood, MN 56444
Telephone:

(218) 534-3309

Email: office@salemdwd.org
Telephone:

(218) 534-4962

Email: west@salemdwd.org Website: salemwestdwd.org
Telephone:

(218) 534-2945

Website: salemwestdwd.org