Children's Ministry at Salem
SUNDAY SCHOOL: Sunday School at Salem this fall will take place during the sermon time at both worship services, 8:15 & 10:00. Children are welcome to come up front for the Children's Sermon, and then go with the Sunday School teachers to the education wing. Our goal is to keep Sunday School fun, educational, and engaging for all kids in our mixed age class, so each week may be different– sometimes with the lesson built into a craft, or with videos, songs, or games. We've designed this format keeping in mind the families who are here every week, those who join us once in a while, and for visitors too! All kids ages pre K-6th grade (and older!) are welcome in our class and will fit right in with our lessons/activities, centered around the Gospel message. We try our best each week to get the children back to the worship service prior to communion time.
The Salem Sunday School Christmas Program is held in December of each year. Practices begin in November. The date for the program will be determined after Sunday School begins in the fall.
Opening my Bible classes for third graders and their parents are scheduled each year. Each third grader receives a Bible at the conclusion of these classes during worship on a scheduled Sunday morning.
Resources for Family Devotions for Advent and Lent are provided during those times of the year. Those resources will be available for ANYONE who is interested, usually in the narthex, clearly marked.
SUMMER CAMP 2021 IS HAPPENING!!
Voyageurs Lutheran Ministry
-Camp Hiawatha-
-Camp Vermillion-
Early-Early bird registration ends February 15th – up to $100 off
Early bird registration February 16-April 1st– up to $50 off
Go to www.vlmcamps.org for more information on Covid 19 camp safety protocols for 2021 and to register for camp.
SUMMER CAMP INFORMATION
Summer camp 2021 with Voyageurs Lutheran Ministry IS happening! This year's theme is 'Wild Grace', based on John 1:16 "From His fullness we have all received, grace upon grace." Wild Grace focuses on God's unrestrained and unbridled love for us. Summer campers will dig into the parables of Jesus and learn about the constant, abundant, and never-ending love that God showers on us daily. Now that sounds exciting!!
Directors and staff at both Camp Hiawatha and Camp Vermillion have been working hard to keep camp safe this summer! There will be some changes in programming and gathering this year. Cabins will be limited to 1/2 capacity, campers will meet in smaller pods, cabin meals will be served outdoors, masks will be required. More details on the camps Covid 19 preparedness is available on the website. Building friendships, worshipping, bible study, swimming, grovers, crafts and many other things you know and love about camp will still be happening!

If you want to go to camp, but are concerned about the cost, there are resources available. Salem Lutheran Church memorial committee offers camperships to families who need assistance paying for camp. A campership is like a scholarship, and will be paid directly to camp once your child is registered. Applications are available in the Narthex. If you need additional assistance, Voyageurs Lutheran ministry has funds available as well. They do not want the cost of camp to deter any child who wants to go. Check out their website for more information. www.VLMcamps.org Registration is available online. Early Bird registration gets you up to $50 off the cost of the week of camp and expires April 1st.

DID YOU KNOW??
• Facilities at camp Hiawatha and Vermillion are available for rental to families and groups throughout the year?
• 400,000 Morning Mai video devotionals viewed on Facebook.com/VLMcamps?
• 0 campers in 2020, but…. 1,368 Retreat and day use guests visited the sites last year! 65% of camper parents donated their 2020 camp deposits back to camp?
• Over 8,000 basket raffle tickets were sold at the virtual Bluegrass Festival (triple the previous record)?
• VLM offers canoe camp, with an option to camp in the boundary waters?
• Sunday March 21 is Camp Sunday at Salem Lutheran Church?

Summer Camp Registration Is Open!
This coming summer we will be soaking in WILD GRACE as we gather together around the campfire at Camp Hiawatha and Camp Vermilion. With new Covid proto-cols in place, all of our usual summer camp programs are scheduled but our capacity will be reduced which means space is limited- sign up today! You can also save money by registering before April 1.
Visit the VLM website for more information and to register – www.VLMcamps.org.
Family Rejuve – March 5th, 6th, and 7th at Camp Hiawatha
We want to invite you and your family to spend a day, a night, or the whole week-end at Camp Hiawatha playing in God's great northwoods. In addition to outside ac-tivities like sledding or skating, our staff will have inside activities for you to do as a family. There are also skiing opportunities – cross country and downhill – close by if you are feeling adventurous.
Cost for the full weekend is $100/adult, $75/youth (ages 4-17) and includes 5 meals (Fri-Sun), 2 nights lodging, snacks, and on-site activities. (Cost adjusted for a short-er stay.) Contact us and let us know how you want to engage – a few hours, a day, or overnight – we would love to make this a weekend that is perfect for your fami-ly. VLM@VLMcamps.org or www.VLMcamps.org/familyrejuve.
Join our Summer Team!

Voyageurs Lutheran Ministry is seeking young adults interested in helping us do camp in a new way this summer. Covid is changing some things for us this summer, but what hasn't changed is our need for Christ-centered youth adults eager to live out their faith as they hone leadership skills. Our Summer Staff are key in providing our campers with a fun and memorable camp experience. They also help to build a safe, welcoming community for all, while making long-lasting friendships and memo-ries of their own.
If you know someone who should work at camp, encourage them to contact us for more information, or visit the summer employment page on our website – www.VLMcamps.org/summer-employment.
CAMPING MINISTRY – VOYAGEURS LUTHERAN MINISTRY
"Church Camp" is an integral part of our congregation's overall children youth and family ministry. Our camps are Camp Hiawatha, north of Grand Rapids MN and Camp Vermilion, near Cook MN – together called Voyageurs Lutheran Ministry (VLM). VLM has been providing opportunities for Christ-centered Spiritual Growth, Leadership Development and Outreach in God's Great Northwoods for over half of a century. Youth, families, adults and groups from all over the country are part of that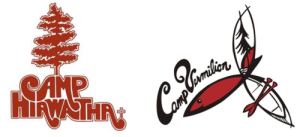 rich history. The camps and programs are open to all. Children who have completed kindergarten – 4th grade can begin their camping ministry by participating in the Discoverers program – a one day camp experience. Children who have completed grades 2-4 can take part in a 3-day, two night camps called Venturers. Older elementary school children are encouraged to be part of a week-long, in-camp experience – Seekers for those who have completed grades 3- 4 and Trekkers for those who have completed grades 5-6. Salem's Memorial Committee provides financial assistance to members in the form of "camperships". VLM is an Outdoor Ministry of the Evangelical Lutheran Church in America (ELCA) that provides a variety of year-round and summer programs out of its 2 sites in Northeastern Minnesota. VLM also operates as an outfitter in the Boundary Waters Canoe Area Wilderness (BWCAW) through our Voyageurs Canoe Country program.