Salem exists to equip people with a faith that works in the world.
At Salem we have a variety of ways to connect with others. There is programming for all ages, all talents, all schedules. So, whether your favorite activity is camping, singing, serving others, or digging deeper into the Bible, we have something for you. Please browse our wide range of ministries, give something new a try, and we hope to see you soon.
Often heard at any of our gatherings are phrases like, "everyone is welcome," "bring your friends," "you don't have to be a member to belong." Salem is a place for children, youth, and families who have never stepped foot inside a church building, and a place for children, youth, and families who have been part of a church forever. We welcome you with open arms from the second you are born and promise to love you, laugh with you, cry with you, support you, and follow Jesus together with you as we live out our faith every single day.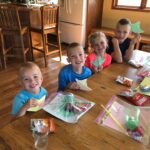 Children's Ministries
Children's Ministry welcomes children ages 2 1/2 through 6th graders. We have events throughout the school year and summer for all of our children to be engaged.
We want kids to experience what it means to be a follower of Jesus. We teach kids about God in a way that they will understand. Children will learn the ministry of Jesus, know they are loved by God, and have fun while building relationships with each other.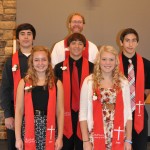 Youth Ministries
We serve youth from 7th through 9th grade through youth events and Confirmation classes throughout the school year and summer.
The Confirmation program begins as students enter 7th grade and concludes with the Affirmation of Baptism in the fall of 10th grade. Our program is designed with the hope that your child will learn more about Christ, deepen their faith, strengthen friendships, and find their place in the church.

Adult Ministries
The goal of Adult Ministries is to provide great fellowship, informative programs relating to the church, our faith, or community for members and friends.
We enjoy monthly activities that include luncheons and speakers, trips to theaters, etc.
It's a great group to be together with friends or join in as you make new friends.

Music Ministries
Salem Lutheran is blessed to have a vibrant music ministry that has been a rich part of our church's history and one we hope to carry into the future. Our aim here is to strive for excellence in an atmosphere of grace so that our rehearsals become a place to experience community and belonging, no matter what the age group.

Outreach Ministries
Salem Lutheran Church desires for its member and visitors to live out their faith in daily life. One of the ways this is demonstrated is through Salem outreach ministry.
Serving at Salem West donation center, the Mustard Seed thrift shop, Lunch Bunch summer program, or serving around the community, there is a place for you!

Small Groups
Our Small Group Ministry grew out of the commitment to foster authentic and deepening relationships with God and one another. Small groups learning and fellowship opportunities like bible studies and quilting offers for the enhancement of one's faith character and that of the community as a whole.