Sunday Mornings
At Salem
Sunday Morning at 9:00 a.m

.
Also
Worship Services are available live on Facebook on Sunday mornings at 9:00 a.m. Services are posted on YouTube and the Website
Monday morning.
At the Council meeting on December 16th, it was decided to require masks during worship from now through the month of January. Thanks to everyone for their cooperation in this.
Salem Lutheran Church Deerwood MN – a member congregation of the Evangelical Lutheran Church in America (ELCA) – is a church alive with vibrant
ministries, worship and a commitment to "love and
serve God by loving and serving people." Come as
you are, but know that the God of Jesus Christ loves
you too much to leave you that way. He wants to
mold you, shape you, and use you, so that you can make
a difference in his name. Come grow with us! A good
place to begin is worship on Sunday mornings.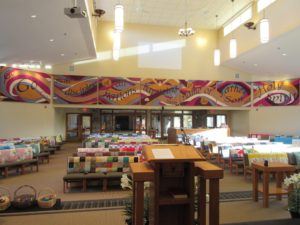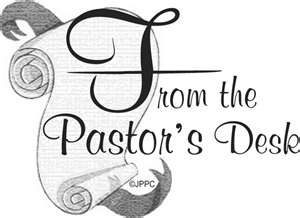 "And she gave birth to her firstborn son and wrapped him in bands of cloth, and laid him in a manger, because there was no room for them in the inn. – Luke 2:7

Years ago a good friend made us a ceramic nativity set complete with Mary, Joseph, the baby, shepherds, wise men and animals. We have set it up every December, minus the baby. I'd hide him until Christmas Eve when he was placed in the center of the scene.
Every year I'd worry that I'd forget where the baby was. Every year (so far) I've remembered where he was. You don't want to lose baby Jesus! Apart from my bad memory it is possible to lose baby Jesus in the craziness of Advent. In this, the most commercialized and secularized holiday of all, we are always in danger of losing Jesus. Not the ceramic Jesus of our nativity sets, but losing our way in all the preparations and never finding the holy in the midst of the hectic; never experiencing the expectant purposeful waiting that brings us to the awe and wonder of Emmanuel, God with us, born in Bethlehem.
Every year I warn myself: Don't lose the baby! Because if we lose the baby, Christmas doesn't make any sense at all. Without the baby, Christmas is a beautifully wrapped box with nothing inside. It is empty of meaning, but most of all it is empty of hope. Theologically we don't need to worry about losing Jesus because Jesus is with us. Our Lord saw to that. In Luke 2: "She gave birth to her firstborn son and laid him in a manger." And in John 1: "The Word became flesh
and dwelt among us." In Matthew 28 Jesus promises to be
with us "always to the end of the age." No, Jesus hasn't
been lost.
Perhaps a more accurate warning would be: Don't lose sight of the baby. That baby, that Word made flesh is the light of the world. In these dark days, we need the light of the world to shine in us and through us more than ever. This Advent and Christmas go and be Jesus for those who have lost sight of him. Go and show your neighbors the love of Jesus. Go to the dark places and bring Jesus. Go sit with those who are sad and be Christmas. Go and speak the truth into the cracks and broken places in our community. Go, just show up and be the hands, feet, the voice, the love of Jesus. Go and let your light so shine before others, the light
of Christ, the light no darkness can overcome.
God bless you and your family this holiday season. And may the peace of God made real to us in a baby born in Bethlehem fill your heart this Advent and Christmas season.
– Pastor Mike
UPCOMING EVENTS AND NEWS
Salem's Lil' Free Pantry
The Lil Free Pantry has a new look! Thanks to Dick and Lois Hicks and Timber Building Supply for their donations of supplies, time and effort for this upgrade. Check out the new pantry under the tree in the church parking lot. If you or someone you know is a little short on groceries, stop by and help yourself. It's free, it's anonymous and it's for everyone!
~ Kris Schmidt
If you are interested in helping with this ministry, please contact Kris Schmidt or the Salem church office.
Do You Want to Make Memories to Last a Life Time?
Ask anyone who has attended the National Youth Gathering either as a student or a chaperone and they will tell you about the amazing experience and wonderful memories. Next summer (2022) the ELCA National Youth Gathering is being held in Minneapolis, Minnesota. There will be inspiring speakers, awesome music, opportunities to form friendships with others from all over the country, and so much more. If you want to share in this wonderful, faith-filled adventure, talk to Pastor Mike. You don't have to spend days on a bus to reach the destination – it is right here in our state.
CHRISTMAS UN-DECORATING

will be on Thursday, January 6th at 9am. All are invited to help us get ready for the Epiphany season.
CREDENZA SILENT AUCTION
:

Gary Guida has built a solid oak credenza and offers it for silent auction at Salem, with proceeds going to the Capital Appeal building fund. It is entirely hand made from the planning of the raw oak to the fit and finish of the doors and drawers. Be sure to admire his handiwork. Bidding starts at $250.00. Thank you to Gary for his generosity and sharing his craftsmanship!
As the

new Daycare

is set up at Salem, we need a team of people to coordinate and work with those in charge of the Daycare. We already have a Council member and finance. Would you be willing to help out with this? If so, please let the office know. Thank you!
IN STITCHES
meets on Tuesday afternoons at 1:00 p.m. to knit or crochet prayer shawls or other items to be given in times of sickness or grief. Meeting times in the fellowship hall.
PIECEMAKERS

quilt group meets each Tuesday morning at 9:00 a.m. in the fellowship hall to make quilts for Lutheran World Relief, missions and people in need in our community.
DIAPER MINISTRY

meets on 9:00 a.m. in the fellowship hall. You are welcome to come and help cut
t-shirts to be made into diapers and other items.
SALEM WOMEN'S CIRCLE will meet on the second Thursday of each month at 9:30 a.m. at Salem.
KOFFEE KLATCH
at Heartwood.
Come for devotions
and fellowship
with Pastor
Mike and friends.
NIFTY NINETIES

"NIFTY NINETIES" meet once a month, the first Thursday of each month at Heartwood at 1:00 p.m.
WOMEN'S BIBLE STUDIES
Wednesdays, 6:30 a.m. in the library.
MEN'S BIBLE STUDY – THE MEN'S BIBLE STUDY is meeting online by Zoom at 8:00 a.m. on Fridays. They're studying
the weekly lectionary readings. All are
welcome. Contact Pastor Mike to receive a Zoom invitation.
FAITH FORMATION COMMITTEE –

Meeting on the first Tuesday of each month at 6:30 p.m.
GRIEF GROUP
– meets every 2nd Thursday at 12:30 p.m.
Salem Activities
for the Kids!
7th-12th GRADE YOUTH SKI DAY is Saturday, January 15th at Mt. Ski Gull. Cost is $10 for lift ticket, $10 for rental. Call/text Pastor Mike at 715-410-5404 by Jan. 9th to sign up. Meet at church at 11:00 a.m. We should be home early evening. Adult drivers (and skiers) are needed. Call/text Pastor Mike to be a part of it.
Salem Faith Formation Team – Please contact Kris Schmidt if you are interested in joining us. We are always looking for fresh ideas to build our youth and family ministry. Any and all brainstormers are welcome!
Sunday School
All children are welcome in our mixed age class, where we play games, do crafts, and learn about Jesus while having fun!
21276 Archibald Road – PO Box 100 – Deerwood, MN 56444
Telephone:

(218) 534-3309

Email: office@salemdwd.org
Telephone:

(218) 534-4962

Email: west@salemdwd.org Website: salemwestdwd.org
Telephone:

(218) 534-2945

Website: salemwestdwd.org