Sunday Mornings
At Salem
Worship Services are available live on Facebook on Sunday mornings at 9:00 a.m. and posted on YouTube by late morning.
9:00 a.m. Sunday mornings
Salem Lutheran Church Deerwood MN – a member congregation of the Evangelical Lutheran Church in America (ELCA) – is a church alive with vibrant
ministries, worship and a commitment to "love and
serve God by loving and serving people." Come as
you are, but know that the God of Jesus Christ loves
you too much to leave you that way. He wants to
mold you, shape you, and use you, so that you can make
a difference in his name. Come grow with us! A good
place to begin is worship on Sunday mornings.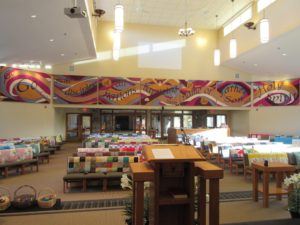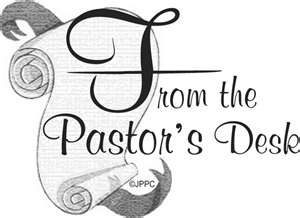 I had a dead patch in my lawn so I threw some seed on it early this spring. I must not have been careful with my spreading. Grass came up in the dead patch as planned. It also came up in the mulched landscaping nearby and in the cracks between the paving stones in the sidewalk. I wouldn't be surprised if it doesn't start growing up through the blacktop!
I learned that seeds grow. I'm sure less than half of them survived – judging by my sloppy sowing – but now, two months later, there's grass where there wasn't grass before. I suppose I'll have to pull out the Round Up to stop it from growing in places I didn't want it.
When you're sowing, you never know which particular seeds will grow and thrive. So my strategy has been to sow generously – just to make sure… And in spite of my sloppy sowing and intermittent watering, there is a "harvest." The seeds grow and the lawn is lush and green.
This month we hear several parables about the sloppy and wonderful generosity of God. God is like a sower who throws seed everywhere – on the path, in the rocks, in the weed patch, and in the field. The sower's sloppiness is rewarded with a breathtaking harvest – 30, 60, 100 times what was sown. God is like a farmer who allows wheat and weeds to grow together to avoid damaging the precious wheat before the harvest. The Kingdom of heaven is like a man who found treasure buried in a field. He re-buried it and in joy, sold all he had to buy that field.
God has been so generous with us. The seed of the Word has been planted in us, taken root and grown. It has been nurtured in spite of the weeds growing all around. And the treasure is, there is a harvest coming that is so good you'd gladly sell all you have to be part of it. The Parable of the Sower calls followers of Jesus to be just as generous with others. Sow the seed, the good news of God's grace, generously. You never know which seeds will sprout and grow. The promise is, some will, and the harvest will not only surprise you, it will take your breath away.
Pastor Mike
Upcoming Events And Announcements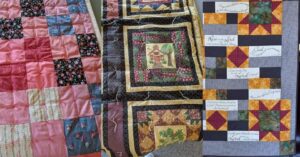 Quilt 1 is a colorful pink quilt measuring 82 x 62 inches.
Quilt 2 is a woodsy colored quilt measuring 71 x 61 inches.
Quilt 3 is a wall hanging "Comfort of the Psalms" measuring 39 x 48 inches.
Quilts can be viewed by driving through the drive through in front of the church located at 21276 Archibald Road, Deerwood, MN. They will be hanging in the windows of the fellowship hall.
Bidding will be accepted starting at 2:00 pm on 2 August. To bid on a quilt, send your name, your phone number, the quilt you are bidding on, and the bid amount to the email address to be provided on 2 August! The latest bids will be posted at least once per day, around 5:00 pm. No names will be posted. Upon completion of the auction, 2:00 pm on 16 August, the highest bidder will be notified to come and pick up your quilt from the church! The quilts must be picked up from the church the following week. This auction is open to anyone that is able to come to the church to pick up their quilt!
– – – – – – – – – – — – – – – – – – – – – – – – – – – – – – – – – – – – – – – – – – – – – – – – – – – – – – – – – – – –
A NOTE FROM SALEM WEST MANAGER, DEE DEE FRAHM
Salem WEST will begin accepting drop-off donations on Monday, April 20th by appointment ONLY! No
unscheduled drop-offs will be accepted. This is to ensure safety of our staff and keep social distancing
guidelines in place. We are not picking up donations at this time.
We are especially in need of the following: couches, loveseats, kitchen table and chairs,
dressers/chest of dressers, microwaves, toasters, crib sheets, and non-feather bed pillows. Please
refer to our website for a complete list of items we cannot accept, as these will be refused at
donation.
• Please arrive at your designated time.
• A mask or face covering will be required.
• A staff member will look through donations prior to directing to the proper unloading location.
• Please bring someone to help you if there is a large amount or large items to unload.
To discuss your donation and schedule a drop-off time, please call 218-534-4962.
Dee Dee
Manager, Salem WEST
(218) 534-4962
Campership applications Salem Lutheran Church Memorial Committee offers financial support to children/youth who are members of Salem and are registered for summer Bible Camp. Forms to apply for this campership are located in the Narthex on a podium next to the Welcome table.
THE INTRO TO THE BIBLE CLASS
for those who are receiving their first Bibles and their parents will be held online on Zoom Sunday May 3rd at 10:30 a.m. Because we do not know when we will be able to gather for worship again, parents will place the scriptures in their child's hands at the end of the class, thereby keeping the promise they made at their child's baptism.
CONFIRMATION CLASSES
have resumed online on Wednesday evenings at 7:00 p.m. They're finishing up their study of the 10

Commandments. 9th Grade students will be completing their Faith Statements and doing final interviews. Please keep our young people in your prayers as they complete their work.
IN STITCHES
meets on Tuesday afternoons at 1:00 p.m. to knit or crochet prayer shawls or other items to be given in times of sickness or grief. Meeting times in the fellowship hall.
PIECEMAKERS

quilt group meets each Tuesday morning at 9:00 a.m. in the fellowship hall to make quilts for Lutheran World Relief, missions and people in need in our community.
DIAPER MINISTRY

meets on 9:00 a.m. in the fellowship hall. You are welcome to come and help cut
t-shirts to be made into diapers and other items.
SALEM WOMEN'S CIRCLE will meet on the second Thursday of each month at 9:30 a.m. at Salem.
KOFFEE KLATCH
at Heartwood, next meeting with be Friday, March 27th at 1:00 p.m.
Come for devotions
and fellowship
with Pastor
Mike and friends.
NIFTY NINETIES

"NIFTY NINETIES" meet once a month, the first Thursday of each month at Heartwood at 1:00 p.m.
WOMEN'S BIBLE STUDIES
Wednesdays, 6:30 a.m. in the library.
MEN'S BIBLE STUDY – THE MEN'S BIBLE STUDY is meeting online by Zoom at 8:00 a.m. on Fridays. They're studying
the weekly lectionary readings. All are
welcome. Call/text (715-410-5404) or
email (pastor@salemdwd.org) Pastor Mike to receive a Zoom invitation.
FAITH FORMATION COMMITTEE –

Meeting on the first Tuesday of each month at 6:30 p.m.
GRIEF GROUP
– meets every 2nd Thursday at 12:00 p.m.
Salem Activities
for the Kids!
The Salem Faith Formation Team meets again Tuesday June 2 at 6:30 via ZOOM. Please contact Kris Schmidt at robkrisschmidt@charter.net or
218-851-1362 if you are interested in joining us. We are always looking for fresh ideas to build our youth and family ministry. Any and all brainstormers are welcome!
s
Sunday School
All children are welcome in our mixed age class, where we play games, do crafts, and learn about Jesus while having fun!
21276 Archibald Road – PO Box 100 – Deerwood, MN 56444
Telephone:

(218) 534-3309

Email: office@salemdwd.org
Telephone:

(218) 534-4962

Email: west@salemdwd.org Website: salemwestdwd.org
Telephone:

(218) 534-2945

Website: salemwestdwd.org