Sunday Mornings
At Salem
JOB OPPORTUNITY
Salem Lutheran Church Deerwood MN – a member congregation of the Evangelical Lutheran Church in America (ELCA) – is a church alive with vibrant
ministries, worship and a commitment to "love and
serve God by loving and serving people." Come as
you are, but know that the God of Jesus Christ loves
you too much to leave you that way. He wants to
mold you, shape you, and use you, so that you can make
a difference in his name. Come grow with us! A good
place to begin is worship on Sunday mornings.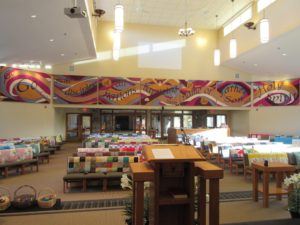 FALL/WINTER
MUSIC REHEARSALS
Salem Ringers practice on
Mondays at 7:15 pm
Salem Praise Team practice on Wednesdays at 5:30 pm
Salem Choir practice on
Wednesdays, at 6:00 pm
We invite you to join us!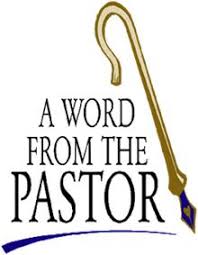 Remember you are dust, and to dust you shall return."
"When I look at your heavens, the work of your fingers, the moon and the stars that you have established; what are human beings that you are mindful of them, mortals that you care for them?" – Psalm 8:3-4
In 1990 Voyager 1 aimed its camera back at earth from a distance of 4 billion miles. Earth appears as a tiny point of light, less than one pixel in an enormous multi-frame photograph. Carl Sagan wrote, "Look again at that dot… That's us. On it everyone you love, everyone you know, everyone you ever heard of, every human being who ever was, lived out their lives. The aggregate of our joy and suffering… every king and peasant, every young couple in love, every mother and father, hopeful child… every saint and sinner in the history of our species lived there – on a mote of dust suspended in a sunbeam."
The photo revealed that we are literally specks of dust living on a speck of dust. And our generation is not even the first to notice. The Psalmist noticed our insignificance thousands of years ago as s/he looked at the night sky. And s/he was probably only writing something down that humans had wondered about since the first time they looked up at the stars.
But in asking his question the Psalmist also noticed something of great significance. We might be dust specks on a dust mote in a vast universe, but we are dust specks that our Lord loves. The Psalmist goes on in awe and wonder to note that we humans are created little lower than the angels, and we are given dominion over the earth and its creatures. In looking up s/he feels small and insignificant next to the universe, but also beloved and chosen by the One who made it all.
It's a strange paradox to be dust that our Lord loves, both insignificant and beloved.
On Ash Wednesday we begin our pilgrimage to the Cross. We confess our insignificance: "Remember you are dust and to dust you shall return." And then we watch as the One who is All-Significant walks among us and even gives himself for the sake of dust like us. Remember that you are dust… but you are dust our Lord loves!
~ Pastor Mike
Upcoming Events And Announcements
The 5th ANNUAL CHOCOLATE EXTRAVAGANZA will be at the Mustard Seed again on February 13th, 14th & 15th. It's a great time to purchase your valentine treats. There will be a large selection of homemade chocolates and valentine specialties to choose from. Great gifts for that "special someone" or even yourself! Put it on your calendar.
CONFIRMATION CLASSES RESUME FEB. 5TH. Students will be studying the Old Testament, the 10 Commandments, and choosing mentors for Lent. Please keep them in your prayers as they continue their faith journeys.
1st COMMUNION CLASSES for 4th-8th grade students (who have not yet attended) and their parents will begin Sunday, March 1st at 10:30 a.m. in the Youth Room. The goal of the 5 week course is for students to receive their 1st Communion on Maundy Thursday, April 9th. Please keep the students in your prayers as they take this important step in their faith journeys.
A KIDS CLUB COORDINATOR is needed to plan 13 Wednesday events from January to May, and work with 2nd-6th grade kids and adult volunteers. Kids Club meets on Wednesdays from 3:00- 5:00 pm. This is a paid position. Please call Mark Carlson at 218-851-7235 for more information.
IN STITCHES
meets on Tuesday afternoons at 1:00 p.m. to knit or crochet prayer shawls or other items to be given in times of sickness or grief. Meeting times in the fellowship hall.
PIECEMAKERS

quilt group meets each Tuesday morning at 9:00 a.m. in the fellowship hall to make quilts for Lutheran World Relief, missions and people in need in our community.
DIAPER MINISTRY

meets on the second Tuesday of each month at 9:00 a.m. in the fellowship hall. You are welcome to come and help cut
t-shirts to be made into diapers and other items.
SALEM WOMEN'S CIRCLE will meet on the second Thursday of each month at 9:30 a.m. at Salem.
KOFFEE KLATCH
at Heartwood, next meeting with be Friday, February 28th at 1:00 p.m.
Come for devotions
and fellowship
with Pastor
Mike and friends.
NIFTY NINETIES

"NIFTY NINETIES" meet once a month, the first Thursday of each month at Heartwood at 1:00 p.m. The next meeting will be on February 6th.
WOMEN'S BIBLE STUDIES
Wednesdays, 6:30 a.m. in the library.
MEN'S BIBLE STUDY
– All men are welcome Friday morning at 8:00 a.m. in the conference room.
Salem Activities
for the Kids!
SALEM KIDS CLUB Kids club will meet every Wednesday from 3:15 to 5:00 pm. Volunteers are needed to help with craft projects which will be set up at tables in the fellowship hall. We can always use helpers to clean up as well. Contact Raye or Karla if you are able to be a volunteer.
Sunday School
All children are welcome in our mixed age class, where we play games, do crafts, and learn about Jesus while having fun!
21276 Archibald Road – PO Box 100 – Deerwood, MN 56444
Telephone:

(218) 534-3309

Email: office@salemdwd.org
Telephone:

(218) 534-4962

Email: west@salemdwd.org Website: salemwestdwd.org
Telephone:

(218) 534-2945

Website: salemwestdwd.org