Sunday Mornings
At Salem
Worship Services are available live on Facebook on Sunday mornings at 9:00 a.m. and posted on YouTube by late morning as long as public worship is suspended.
June 7, 2020 @ 9:00 a.m.
June 21, 2020 @ 9:00 a.m.
Salem Lutheran Church Deerwood MN – a member congregation of the Evangelical Lutheran Church in America (ELCA) – is a church alive with vibrant
ministries, worship and a commitment to "love and
serve God by loving and serving people." Come as
you are, but know that the God of Jesus Christ loves
you too much to leave you that way. He wants to
mold you, shape you, and use you, so that you can make
a difference in his name. Come grow with us! A good
place to begin is worship on Sunday mornings.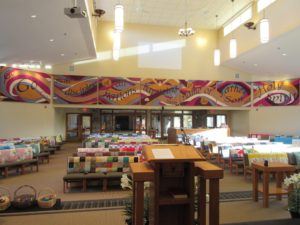 Genesis 9:8-17; Psalm 93;
Ephesians 1:15-23; Luke 24:44-53
2 Kings 2:1-12; Ephesians 2:1-7
2 Kings 2:13-15; John 8:21-30
Acts 1:6-14; Psalm 68:1-10, 32-35; 1 Peter 4:12-14, 5:6-11; John 17:1-11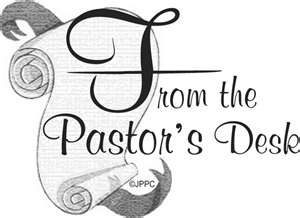 "Some of the believers who were scattered by the persecution which took place when
Stephen was killed went as far as Phoenicia, Cyprus, and Antioch, telling the message
to Jews only. But other believers, men from Cyprus and Cyrene, went to Antioch and proclaimed the message to Gentiles also, telling them the good news about the Lord Jesus." – Acts 11:19-20
I've been watching "The History of Christianity" on PBS while sheltering in place the
last few weeks. It's a nice documentary that summarizes the worldwide sweep of
Christian history over the last 2,000 years. He made one observation that struck me and stuck with me. He observed that what has made Christianity grow from a small band of followers to the largest faith in the world (over 2 billion followers of Jesus!) is its
adaptability (as well as the Good News about Jesus and the Holy Spirit – my addition).
Many other religions have come and gone in that 2 millennia. Christians adapted to their context and thrived.
You can see it happening already in the New Testament. The Jerusalem Christians were not too much different than their Jewish brothers and sisters. The Book of Acts tells the story of Christians adapting and reaching out to the Gentile world and becoming a Gentile church. The church grew into Syria and Turkey where it innovated and developed music and ritual and monasticism. It spread to Greece and Russia. During the Muslim explosion of the 7th century the Middle Eastern and North African Church adapted to living in a new culture and found ways to influence and be influenced by their Muslim neighbors. The Church expanded to the east, reaching India and even China. Christians were never really assimilated into the culture, so they responded innovatively and entrepreneurially. Chinese Christians became a respected minority in those lands hundreds of years before the Crusades. In the West the Church became the religion of the Empire. Rome, the state churches of Europe, and the church/state separation in America are all adaptations made by the Church of the West. The Church has had a remarkable ability to re-invent itself as the context and the situation changed. And the
Church has become richer and more diverse from the experience.
This last month or two the situation has changed again. And I'm happy to report that I see you all faithfully adapting your faith and practice to the new situation. Social distancing has led us to reach out online, to personal prayer and devotions, and all sorts of new things. When we live stream worship you are not only there, you're welcoming and greeting others who are watching, and engaging in faith filled conversations.
You're checking in with one another and engaging in selfless service in your work.
The rules have changed. Like the Church of Acts, and Christians through the ages, adapt, be creative. Be daring like Paul, who saw the thousands of non-Jews who hadn't heard the good news, and felt the Spirit's call to preach to them. It was against every principle he had learned in his Jewish tradition, but the good news was too good to keep it from them. When people were kicked out of the synagogues they met in one another's
homes. When the emperor initiated persecutions they met in the catacombs.
The ELCA has been a leader in innovation. Did you know that this year we are celebrating 50 years of ordaining women to the ministry and 40 years of ordaining women of color? How different would the Church be without their gifts? The ELCA has been at the forefront of ecumenical relationships with other churches, forging full
3 communion relationships with the UCC, Episcopal, Presbyterian, United Methodist, Moravian, and Reformed churches. Talks are continuing with Roman Catholics and several other bodies.
It's true at Salem too. For example, you invented Outreach ministries to match people's belongings with other's needs. You worshipped at Heartwood while building a new building in Deerwood. Faith formation developed Kid's Club as Sunday school became less viable. You've developed quilting and knitting ministries to aid the poor, prison and addiction ministries, communion visitors, and so much more. Keep up the faithful innovation, even and especially in this time of COVID-19.
– Pastor Mike
Upcoming Events And Announcements
A NOTE FROM SALEM WEST MANAGER, DEE DEE FRAHM
Salem WEST will begin accepting drop-off donations on Monday, April 20th by appointment ONLY! No
unscheduled drop-offs will be accepted. This is to ensure safety of our staff and keep social distancing
guidelines in place. We are not picking up donations at this time.
We are especially in need of the following: couches, loveseats, kitchen table and chairs,
dressers/chest of dressers, microwaves, toasters, crib sheets, and non-feather bed pillows. Please
refer to our website for a complete list of items we cannot accept, as these will be refused at
donation.
• Please arrive at your designated time.
• A mask or face covering will be required.
• A staff member will look through donations prior to directing to the proper unloading location.
• Please bring someone to help you if there is a large amount or large items to unload.
To discuss your donation and schedule a drop-off time, please call 218-534-4962.
Dee Dee
Manager, Salem WEST
(218) 534-4962
Campership applications Salem Lutheran Church Memorial Committee offers financial support to children/youth who are members of Salem and are registered for summer Bible Camp. Forms to apply for this campership are located in the Narthex on a podium next to the Welcome table.
Vacation Bible School/Day Cam

p –
THE FAITH FORMATION TEAM has been working on VACATION BIBLE SCHOOL for the week of June 15th. We will be featuring a backyard virtual VBS called BOLT, which is designed for families to do at home. The program will be free to everyone this year (funded by Salem Children's ministry) and will be accessible to anyone who is interested, as long as they have access to a computer or smart phone. More information will be coming soon.
MEN'S FISHING RETREAT July 13—16, 2020
at Kec's Kove on beautiful Lake Kabetogama. Attention: There is a place for YOU on the Retreat! Don't miss out on this unique time away for fishing, fellowship and faith! Men should sign up as soon as possible. If the retreat needs to be cancelled, the deposit
will be refunded or held for the next retreat. Registration forms are available by
clicking here
.
The SALEM CAMPING TRIP will be June 21-24, 2020 at Trails RV in Walker. Salem currently has 13 units signed up! If
you are interested, there are 2 sites left. Please call Becky Guida, 218-546-5794.
THE INTRO TO THE BIBLE CLASS
for those who are receiving their first Bibles and their parents will be held online on Zoom Sunday May 3rd at 10:30 a.m. Because we do not know when we will be able to gather for worship again, parents will place the scriptures in their child's hands at the end of the class, thereby keeping the promise they made at their child's baptism.
CONFIRMATION CLASSES
have resumed online on Wednesday evenings at 7:00 p.m. They're finishing up their study of the 10

Commandments. 9th Grade students will be completing their Faith Statements and doing final interviews. Please keep our young people in your prayers as they complete their work.
IN STITCHES
meets on Tuesday afternoons at 1:00 p.m. to knit or crochet prayer shawls or other items to be given in times of sickness or grief. Meeting times in the fellowship hall.
PIECEMAKERS

quilt group meets each Tuesday morning at 9:00 a.m. in the fellowship hall to make quilts for Lutheran World Relief, missions and people in need in our community.
DIAPER MINISTRY

meets on March 11th at 9:00 a.m. in the fellowship hall. You are welcome to come and help cut
t-shirts to be made into diapers and other items.
SALEM WOMEN'S CIRCLE will meet on the second Thursday of each month at 9:30 a.m. at Salem.
KOFFEE KLATCH
at Heartwood, next meeting with be Friday, March 27th at 1:00 p.m.
Come for devotions
and fellowship
with Pastor
Mike and friends.
NIFTY NINETIES

"NIFTY NINETIES" meet once a month, the first Thursday of each month at Heartwood at 1:00 p.m. The next meeting will be on March 5th.
WOMEN'S BIBLE STUDIES
Wednesdays, 6:30 a.m. in the library.
MEN'S BIBLE STUDY – THE MEN'S BIBLE STUDY is meeting online by Zoom at 8:00 a.m. on Fridays. They're studying
the weekly lectionary readings. All are
welcome. Call/text (715-410-5404) or
email (pastor@salemdwd.org) Pastor Mike to receive a Zoom invitation..
FAITH FORMATION COMMITTEE –

Meeting on the first Tuesday of each month at 6:30 p.m.
GRIEF GROUP
– meets every 2nd Thursday at 12:00 p.m.
Salem Activities
for the Kids!
SALEM KIDS CLUB Kids club will meet on March 4th, 11th and 18th from 3:15 to 5:00 pm. Volunteers are needed to help with craft projects which will be set up at tables in the fellowship hall. We can always use helpers to clean up as well. Contact Raye or Karla if you are able to be a volunteer.
Sunday School
All children are welcome in our mixed age class, where we play games, do crafts, and learn about Jesus while having fun!
21276 Archibald Road – PO Box 100 – Deerwood, MN 56444
Telephone:

(218) 534-3309

Email: office@salemdwd.org
Telephone:

(218) 534-4962

Email: west@salemdwd.org Website: salemwestdwd.org
Telephone:

(218) 534-2945

Website: salemwestdwd.org