Sunday Mornings
At Salem
Traditional Worship – 8:15 a.m.
Contemporary Worship – 10:00 a.m.
Salem Lutheran Church Deerwood MN – a member congregation of the Evangelical Lutheran Church in America (ELCA) – is a church alive with vibrant
ministries, worship and a commitment to "love and
serve God by loving and serving people." Come as
you are, but know that the God of Jesus Christ loves
you too much to leave you that way. He wants to
mold you, shape you, and use you, so that you can make
a difference in his name. Come grow with us! A good
place to begin is worship on Sunday mornings.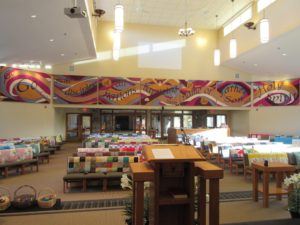 "Remember the Sabbath day to keep it holy." – Exodus 20:8 On Labor Day we remember and celebrate the efforts of those who fought to curb the abuse of labor. At great cost they pushed for safer workplaces, child labor laws, 8 hour work days, and 5 day work weeks. Most of all they fought for higher wages – a more equitable sharing of company profits with those whose labor produced them. There is an earlier tradition of Labor Day, call it God's Labor Day. It comes to us as a command to take a Sabbath, a day off, every week. It comes from two experiences seared into Israel's memory: their 400 years of slavery in Egypt, and their 50+ year exile in Babylon. Slaves never get a day off. Ever. What a gift it must have been for those former slaves to hear the 3rd commandment. Before God said "don't kill," and "don't steal," God said "take a day off – every week!" What a great commandment! A whole day every week to nurture relationships with God and family and friends. Sabbath was, and still is, the favorite day of the week in Jewish households. 600 years later, with their country in ruins, the people of Judah were captives in Babylon. The Babylonians told a violent and chaotic creation story. The universe was made from the blood and body parts of a murdered mother/goddess. The people of earth exist due to the continuing protection of the victorious son/god who killed her, and his servant on earth, the king of Babylon. Blood and violent overthrow were part of the very order of creation. Since the only thing standing between them and annihilation was the king, people's sole purpose in life was to serve and protect him. It was a dark vision, an early theology of the national security state. In contrast, the Jewish exiles taught their children a story of creation based on Genesis 1 & 2. Creation is a good and well-ordered gift from God. You are made in God's image and have God's Spirit breathed into you. Sabbath is a holy day to rest from your labor – just as God did – and to enjoy the gift of life on God's good earth. What a contrast to the grim story their Babylonian captors told! Our Lord still calls us to take a day off. In our 24/7 world, it is still counter cultural. Is it worth practicing Sabbath in the 21st century? Is it even possible? What with multiple jobs and soccer tournaments and household chores, who has a day off anymore? Maybe we should give up and teach our kids 9 commandments instead of 10. Or maybe Sabbath is a discipline worth practicing even now – especially now – because it brings a blessing with it. Nobody on their deathbed says, "I wish I would've worked more." In our last moments we know loved ones are the best gifts in life. Regrets usually revolve around opportunities lost in those relationships. Remember the Sabbath day is a command God gave us to nurture exactly those things that are most important in our lives. What a gift! Remember the Sabbath, God's Labor Day. What a blessing to take time every week to rest and to tend to that which is most important. ~ Pastor Mike
Upcoming Events And Announcements
SUNDAY SCHOOL begins Sunday, September 8th. Children will be released after Children's Sermon.
There will be no Thursday morning Women's Bible Study until further notice.
HABITAT FOR HUMANITY has started to build Dennis Peterson's home. Call Karen at 218-454-7020 or email cathy.crosby27@gmail.com to volunteer.
FALL MUSIC REHEARSALS BEGIN
Many of you are asking the question, where did summer go? Labor Day weekend is upon us and that means our music schedule resumes full speed. Everybody and anybody who likes to make a joyful sound is invited to join any of our music groups.
Salem Choir begins practice on Wednesday, September 4th at 6:00 pm. Salem Praise Team practices every Wednesday at 5:00 pm. Salem Ringers begin on Monday, September 9th at 7:15 pm. Salem Cantata Choir will start practicing in mid-October with performances on December 7th and 8th.
Kennedy, Noreen, Becky, and Kevin invite you to join us. We gladly welcome part-time participants. Let's make a joyful noise unto the Lord!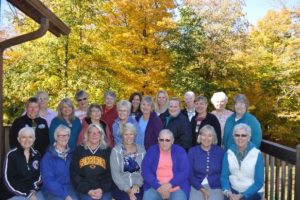 SALEM WOMEN'S RETREAT Mark your calendar for our SALEM WOMEN'S RETREAT on Church Island, Bay Lake this fall. The retreat will be held October 11-13. We have room for about 40 women. The weekend is filled with fun, fellowship, and great food! More information to come in July and August. Questions? Contact Ellen Uglem (218-866-0012).
IN STITCHES
meets on Tuesday afternoons at 1:00 p.m. to knit or crochet prayer shawls or other items to be given in times of sickness or grief. Meeting times in the fellowship hall.
PIECEMAKERS

quilt group meets each Tuesday morning at 9:00 a.m. in the fellowship hall to make quilts for Lutheran World Relief, missions and people in need in our community.
QUILTING AT HEARTWOOD
meets the first Thursday of each month at 6:30 pm to make quilts at Heartwood.
DIAPER MINISTRY
meets August 14th at 9:00 a.m. in the fellowship hall. You are welcome to come and help cut
t-shirts to be made into diapers and other items.
SALEM WOMEN'S CIRCLE will not meet in August but will meet Sept. 12th at 9:30 a.m. at Salem.
KOFFEE KLATCH
at Heartwood, meets Friday August 9th at 11:00 a.m.
Come for devotions
and fellowship
with Pastor
Mike and friends.
NIFTY NINETIES

Back in the summer of 2018 when I had reached my "milestone" birthday, I realized that several other Salem ladies had also reached that age. (I hadn't wanted anyone to know") When several of us attended Mina Nystrom's 90th birthday celebration, I asked those present what they thought about forming a group of ladies that would meet once a month to reminisce and make new friends. Thus, this is what happened. We became known as the "NIFTY NINETIES" and meet once a month, the first Thursday of each month at Heartwood at 1:00 p.m. This month our meeting will be on August 5th.
WOMEN'S BIBLE STUDIES
Wednesdays, 6:30 a.m. in the library.
Thursdays, 8:30 a.m. in the
conference room.
MEN'S BIBLE STUDY
– All men are welcome Friday morning at 8:00 a.m. in the conference room.
Salem Activities for the Kids!
If you listen to the media, you already know that school is just around the corner. Along with school activities comes the opportunity to join Kid's Club. Kid's Club is a children's ministry here at Salem for kids grades 2 through 6. It takes place on Wednesday afternoon, from 3 pm to 5 pm, during most of the school year. We need VOLUNTEERS to help guide these young ones through the hands-on activities we provide. There is always a healthy snack supplies. Maybe you would enjoy helping with that. Can you remember a fun activity from when you were a Scout? We want to hear about it. Contact the church office with any ideas you have or to add your name to the list of volunteers. Want to speak to a current volunteer? Ask one of these folks: Raye Cragun, Marlene Prill, Karla Peterson, or Mark Carlson.
Sunday School
All children are welcome in our mixed age class, where we play games, do crafts, and learn about Jesus while having fun!
21276 Archibald Road – PO Box 100 – Deerwood, MN 56444
Telephone:

(218) 534-3309

Email: office@salemdwd.org
Telephone:

(218) 534-4962

Email: west@salemdwd.org Website: salemwestdwd.org
Telephone:

(218) 534-2945

Website: salemwestdwd.org