Sunday Mornings
At Salem
Sunday Morning at 9:00 a.m

.
Also
Worship Services are available live on Facebook on Sunday mornings at 9:00 a.m. Services are posted on YouTube and the Website
Monday morning.
Salem Lutheran Church Deerwood MN – a member congregation of the Evangelical Lutheran Church in America (ELCA) – is a church alive with vibrant
ministries, worship and a commitment to "love and
serve God by loving and serving people." Come as
you are, but know that the God of Jesus Christ loves
you too much to leave you that way. He wants to
mold you, shape you, and use you, so that you can make
a difference in his name. Come grow with us! A good
place to begin is worship on Sunday mornings.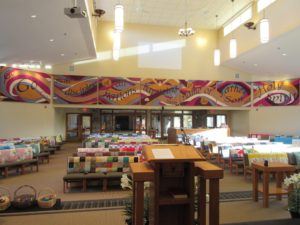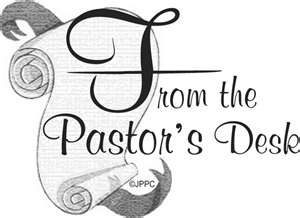 "Mary took a pound of costly perfume made of pure nard, anointed Jesus' feet, and wiped them with her hair. The house was filled with the fragrance of the perfume." John 12:3
"For, as I can testify, they voluntarily gave according to their means, and even beyond their means, begging us earnestly for the privilege of sharing in this ministry to the saints." II Corinthians 8:3-4
We come to worship each Sunday to honor God and to make a difference. Our offering is a way for us to do both.
First, offering is an act of worship and thanksgiving to God. We take some of what God has generously given us, some of what we have toiled to produce, and we give it back to God. By doing so, we recognize that everything we are and everything we have comes by our Lord's generous hand.
Second, offering is a way to make a difference:
In the lives of kids who are just starting their faith journeys
In the lives of neighbors who cry out in need
In the lives of families struggling to live faithfully
In the lives of people who long to hear a word from God in their suffering.
Today I want to publicly thank you for honoring God and for making a difference with your offering. Even a pandemic could not keep you from living out your faith through your generosity!
Secondly, I'd like to ask you to continue honoring God and making a difference. In early October all Salem members will receive a combined Capital Appeal and Fall Stewardship packet. It contains two estimate of giving cards. One is for Salem's annual budget, our 2021 mission plan. The other is a one year extension of Salem's Capital Appeal that pays the mortgage. Please prayerfully consider how you might contribute to both in 2021 and return both cards to the church on (or by) Consecration Sunday, October 18th.
Thank you for your commitment to Salem's mission to "Welcome people to Jesus Christ, Equip people with a faith that works in their lives, and Send people out in Jesus' name." Along with the Apostle Paul I thank you and pray that
"You will be blessed in every way, and you will be able to keep on being generous… What you are doing is much more than a service that supplies God's people with what they need. It is something that will make many others thank God." II Cor. 9:11-12
Pastor Mike
Upcoming Events And Announcements
2021 PROPOSED BUDGET MEETING:
Handouts:
LED Sign Update
After some delay with the process of getting a city permit for installing our new Salem LED sign and also needing to move our existing sign because of buried fiber optic cable that is running next to our existing sign base. We are again with Albrecht Sign Company on course to having our new LED sign installed before the end of year.
Thanks To All Of You
Capital Campaign Video
LIL' FREE PANTRY at Salem!
The Lil' Free Pantry will be stocked with free food items for anyone who wants or needs it. Any non-perishable and non-expired donations are appreciated and can be left within the pantry, so take what you need and if you have a little something extra, you can donate for someone else. The Lil' Free Pantry will be located outside the youth door entrance of the church. Donations can also be dropped off at church and left in the youth room. Salem youth will be managing this project. Please contact Alex Schmidt if you are interested.
CONFIRMATION CLASSES
begin
online on Wednesday evenings at 6:30
p.m. September 16th via Zoom.
Please keep our young people in your prayers as they complete their work.
From the Salem Library:
We have missed displaying books, changing bulletin boards, and writing news articles for you. Now that the church is open on Mondays and Thursdays from 8:30 a.m. to noon and 12:30 to 4:00p.m., we want to welcome you back to the Salem Library to check out items.
Remember that masks are required in the church building.

Please use hand sanitizer before handling books or any library materials.

Please write your first and last names on the checkout cards and place them in the front of the gold box.

When returning items, please place them in the blue return basket. This is important so that we can put them in a cabinet for the prescribed quarantine period before returning them to shelves for others to check out.
TeenTober is a new, nationwide celebration hosted by libraries every October. It aims to celebrate teens and the innovative ways teens learn new skills and fuel their passions in and outside the library. This year with many sports and school activities cancelled, we invite you to check out games, DVDs, and books from the Salem Library.
A Grief Support Group was organized last fall at Salem. It was an informal group that met the

second Thursday of each month at noon. We are now able to meet at Salem in groups of 10 or less

with masks and social distancing. Please call the Church Office if you're interested or join us at the

next meeting on Thursday, Oct. 8th at noo

n.
IN STITCHES
meets on Tuesday afternoons at 1:00 p.m. to knit or crochet prayer shawls or other items to be given in times of sickness or grief. Meeting times in the fellowship hall.
PIECEMAKERS

quilt group meets each Tuesday morning at 9:00 a.m. in the fellowship hall to make quilts for Lutheran World Relief, missions and people in need in our community.
DIAPER MINISTRY

meets on 9:00 a.m. in the fellowship hall. You are welcome to come and help cut
t-shirts to be made into diapers and other items.
SALEM WOMEN'S CIRCLE will meet on the second Thursday of each month at 9:30 a.m. at Salem.
KOFFEE KLATCH
at Heartwood, next meeting with be Friday, March 27th at 1:00 p.m.
Come for devotions
and fellowship
with Pastor
Mike and friends.
NIFTY NINETIES

"NIFTY NINETIES" meet once a month, the first Thursday of each month at Heartwood at 1:00 p.m.
WOMEN'S BIBLE STUDIES
Wednesdays, 6:30 a.m. in the library.
MEN'S BIBLE STUDY – THE MEN'S BIBLE STUDY is meeting online by Zoom at 8:00 a.m. on Fridays. They're studying
the weekly lectionary readings. All are
welcome. Call/text (715-410-5404) or
email (pastor@salemdwd.org) Pastor Mike to receive a Zoom invitation.
FAITH FORMATION COMMITTEE –

Meeting on the first Tuesday of each month at 6:30 p.m.
GRIEF GROUP
– meets every 2nd Thursday at 12:00 p.m. Next meeting October 8th at Noon.
Salem Activities
for the Kids!
The Salem Faith Formation Team meets again Tuesday June 2 at 6:30 via ZOOM. Please contact Kris Schmidt at robkrisschmidt@charter.net or
218-851-1362 if you are interested in joining us. We are always looking for fresh ideas to build our youth and family ministry. Any and all brainstormers are welcome!
Sunday School
All children are welcome in our mixed age class, where we play games, do crafts, and learn about Jesus while having fun!
21276 Archibald Road – PO Box 100 – Deerwood, MN 56444
Telephone:

(218) 534-3309

Email: office@salemdwd.org
Telephone:

(218) 534-4962

Email: west@salemdwd.org Website: salemwestdwd.org
Telephone:

(218) 534-2945

Website: salemwestdwd.org