Sunday Mornings
At Salem
ALL SERVICES AND ACTIVITIES AT SALEM LUTHERAN CHURCH HAVE BEEN CANCELLED UNTIL FURTHER NOTICE (Please see Pastor Mike's letter below).
Salem Lutheran Church Deerwood MN – a member congregation of the Evangelical Lutheran Church in America (ELCA) – is a church alive with vibrant
ministries, worship and a commitment to "love and
serve God by loving and serving people." Come as
you are, but know that the God of Jesus Christ loves
you too much to leave you that way. He wants to
mold you, shape you, and use you, so that you can make
a difference in his name. Come grow with us! A good
place to begin is worship on Sunday mornings.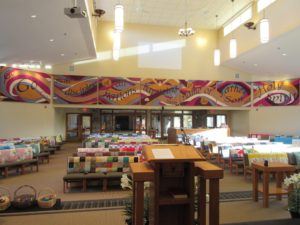 March 17, 2020

Sisters and Brothers in Christ,

As you know, the CDC, MDH, federal, state, and local authorities are calling on all of us to change our habits in response to the arrival of the Coronavirus. We probably can't stop the spread of the virus but we may be able to slow it down. The idea is to "bend the curve" so that our healthcare system is not overwhelmed.
To that end we at Salem are complying with the recommendations of the healthcare authorities. All Salem worship services, events and gatherings are cancelled until further notice. This includes the special meeting of the congregation scheduled for this Sunday, Wednesday Lenten meals and services, Sunday worship, Kid's Club, etc. Mustard Seed and Salem West will also be closed until further notice. No donations, pick-ups, deliveries or volunteers at either location.

These changes do not mean our ministry ends. It simply changes form.

 We will record a Sunday morning worship service each week (as we always do) and post it on our website, salemdwd.org under the above tab labeled "Sermon Videos".

 We will mail Sunday readings, prayers, sermon and announcements to those who do not have access to the internet

 Private communion visits will be made available. Please call or email the church if you would like to receive a communion visitor, or if you would like to be one of those who makes visits.

Gifts and offerings will be very important as we continue our ministry through this epidemic. Some may lose their job and/or income. Others will be better insulated from the economic effects. Please continue to give as you are able. Offerings can be dropped off during office hours (8:00-4:00 Mon.-Fri.), sent through the U.S. mail, given electronically through Simply Giving or your bank, or through the Donation button on the Salem website.

We know our Lord is with us, even and especially in times of crisis. Just as our forebears lived out their faith in good times and difficult times, so will we. Pray for our leaders, our community, and our loved ones. Check in with your neighbors and those who are alone. Let the light of Christ continue to shine through you!

Grace & peace,
Pastor Michael Briggs and Mark Carlson, President
Upcoming Events And Announcements
ALL SERVICES AND ACTIVITIES HAVE BEEN CANCELLED UNTIL FURTHER NOTICE.
Campership applications Salem Lutheran Church Memorial Committee offers financial support to children/youth who are members of Salem and are registered for summer Bible Camp. Forms to apply for this campership are located in the Narthex on a podium next to the Welcome table.
Vacation Bible School/Day Cam

p –

Mark your calendars for June 15th – 19th
.
IN STITCHES
meets on Tuesday afternoons at 1:00 p.m. to knit or crochet prayer shawls or other items to be given in times of sickness or grief. Meeting times in the fellowship hall.
PIECEMAKERS

quilt group meets each Tuesday morning at 9:00 a.m. in the fellowship hall to make quilts for Lutheran World Relief, missions and people in need in our community.
DIAPER MINISTRY

meets on March 11th at 9:00 a.m. in the fellowship hall. You are welcome to come and help cut
t-shirts to be made into diapers and other items.
SALEM WOMEN'S CIRCLE will meet on the second Thursday of each month at 9:30 a.m. at Salem.
KOFFEE KLATCH
at Heartwood, next meeting with be Friday, March 27th at 1:00 p.m.
Come for devotions
and fellowship
with Pastor
Mike and friends.
NIFTY NINETIES

"NIFTY NINETIES" meet once a month, the first Thursday of each month at Heartwood at 1:00 p.m. The next meeting will be on March 5th.
WOMEN'S BIBLE STUDIES
Wednesdays, 6:30 a.m. in the library.
MEN'S BIBLE STUDY
– All men are welcome Friday morning at 8:00 a.m. in the conference room.
FAITH FORMATION COMMITTEE –

Meeting on the first Tuesday of each month at 6:30 p.m.
GRIEF GROUP
– meets every 2nd Thursday at 12:00 p.m.
Salem Activities
for the Kids!
SALEM KIDS CLUB Kids club will meet on March 4th, 11th and 18th from 3:15 to 5:00 pm. Volunteers are needed to help with craft projects which will be set up at tables in the fellowship hall. We can always use helpers to clean up as well. Contact Raye or Karla if you are able to be a volunteer.
Sunday School
All children are welcome in our mixed age class, where we play games, do crafts, and learn about Jesus while having fun!
21276 Archibald Road – PO Box 100 – Deerwood, MN 56444
Telephone:

(218) 534-3309

Email: office@salemdwd.org
Telephone:

(218) 534-4962

Email: west@salemdwd.org Website: salemwestdwd.org
Telephone:

(218) 534-2945

Website: salemwestdwd.org