The Salem Library is situated near the Memorial Garden and has a cozy fireplace with chairs for reading and relaxing. In addition to over 2000 books, there are videos, DVDs, CDs audio books and games available for check-out. A collection of Outreach Resources are available for life crises and do not require sign-out to respect privacy. The Salem Library continues to be blessed with gifts, donations and memorials. There is a selection policy to help with the purchase of new items and weeding of old.
Checking out books: The library check-out is an honor system. After you select a book video, DVD, CD or game, please write your first and last name on the card from the pocket on the item to be checked out. Stamp the due date on the card and the date due slip. Please leave the card in the file on the desk. You may keep a book for 4 weeks and other materials for one week.
There is a great variety of reading material in the library – something for each person's reading taste: Biographies, Devotionals, Christian Life, Fiction, Church History, Young Adult, Children, Bibles, Music, Movies, and Games.
Suggestions for new items are accepted as well as donations to buy new books. The Library Team looks over books that are donated to decide if they are appropriate for the Salem Library. If there are duplicates or items are not needed, they are donated to other libraries, the Jail Ministry, or The Mustard Seed.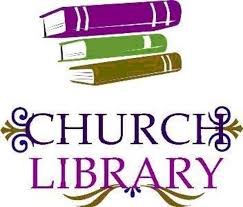 FROM THE LIBRARY
If you enjoy the PBS series, All Creatures Great and Small, you may want to read the James Herriot books that are the basis for the television series. These paperback books are on the desk for easy check out. If your February reading includes romance novels, we recommend books by Christian authors Janette Oke, Karen Kingsbury, Beverly Lewis and Jan Karon. We will be putting a display of Lenten reading on the desk and mantle for Ash Wednesday. You may still place your requests for new library materials in the floral printed box.