New Member Class
This class for those interested in membership at Salem is usually offered twice each year. It's a time to learn about the ministries and programs of the church. We cover the basics of Christianity from a distinctly Lutheran perspective and how that is lived out in and through Salem. We share some of the foundational pieces of this congregation including the Mission Statement.
It's a time to ask questions, meet staff and other new members.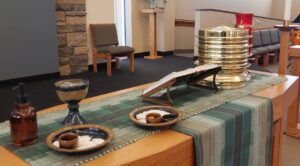 Bible Studies
Women's Bible Study
6:30 AM – 8:00 AM each Wednesday a group of women gather for conversation, study and prayer in the church library. This is a great way to get involved and meet new friends at church!
Men's' Bible study
8:00 AM – 9:00 AM each Friday a group of men gather for conversation, study and prayer. Study is based on lectionary texts that are used in worship. All men are welcome!
Circle Bible Study Groups
Sarah Circle
meets at the church the second Thursday of each month 9:30 am. Some of the projects the group has worked on include: decorate the church for Christmas, host the Advent Luncheon, helped with Summerfest events, participate in the Piecemakers Quilt Group, volunteer at Salem West. Contact the church office for more information. We always welcome new members.
Men's Annual Fishing Retreat
The trip to Kab Kove on Kabetogema Lake each July has been a wonderful time to catch up with old friends and meet new friends.
Information and registration open in January!
Women's Annual Retreat
Held the 2nd weekend in October of each year on beautiful Bay Lake Island, Deerwood. This is a great time to spend in bible study, games, crafting, and getting away for some me time.
Information and registration open in July each year!
Church Camping Trip
A great time away for families and friends in Walker, MN. The church summer camping trip is always a time to reflect, worship, and enjoy the great outdoors. Spend your day fishing, playing cards, swimming, or going on a nature walk. There is always something to do and enjoy. Summer trip is in June. Registration opens in the spring.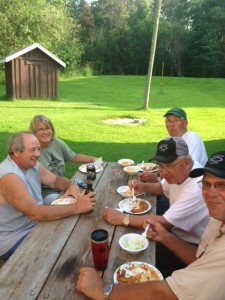 Salem Outreach

Salem West
Salem West is an outreach of Salem Lutheran Church in Deerwood, Minnesota. Salem West works with local social services and nonprofit agencies to offer families, in our community, the basic needs setting up a new home and help getting back on their feet.
Many families experience difficulties due to divorce, addiction, homelessness, unexpected life changes, or simply the loss of a job. Each year over 500 families in the Brainerd Lakes area are blessed by the work of dedicated volunteers. The volunteers at Salem West collect donations from the community, clean, wash, and test these items with the goal of helping a family get ahead in life. Volunteer delivery crews are able to bless a family with much needed items, diapers, furniture, clothing, and a prayer of hope. Salem only works due to the wonderful volunteers giving so much back to this community. Volunteers from throughout the Cuyuna & Brainerd Lakes area join the staff at Salem to make a tremendous impact!
Volunteering
Volunteers are at the heart of our ministry! With over 200 community volunteers you will be in good company. A variety of volunteer opportunities are available for all abilities.
Volunteers at Salem West put orders together for client pickup or delivery, sort donations, wash and sort clothing, wash items, test lamps and appliances, make sets of dishes, silverware and sheets, and general organizing.
Delivery volunteers go out into the community to deliver furniture and other household goods to families and individuals in the community.
Donated items that are unable to be used by the clients of Salem West and the abundance of some donated items are used to support the ministry through the Mustard Seed Thrift Store.
Volunteers at The Mustard Seed unpack and organize merchandize and clothing, set up displays and decorate, cashier, and assist customers during store hours