This class for those interested in membership at Salem is usually offered twice each year. It's a time to learn about the history, present and future of the church. Ministries and programs of the church are introduced and explained. We cover the basics of Christianity from a distinctly Lutheran perspective and how that is lived out in and through Salem. We share some of the foundational pieces of this congregation including the Mission Statement.. It's a time to ask questions, hear preliminary answers, meet staff and other course participants. All people interested in joining Salem should take the new member class.
Via de Cristo (Cursillo)

Trying to decide if Cursillo is for you? Via deCristo is intended for people from every walk of life. It's for church leaders and lay people who live strong and active lives in Christ as well as those who seek to be renewed and strengthened in their relationship with Christ and the people around them. Via de Cristo is open to married couples and single men and women. The way Via de Cristo is set up is that men go one weekend, and the women go the following weekend. Keep an open mind and heart in making your decision to attend a Via de Cristo weekend. Like you, many have wondered if they should go. Once they did go, they wonder why they waited so long. Please understand that each person's experiences are unique. To learn more about this opportunity for spiritual growth please contact the church office at 534-3309.
Men's Ministry
FRIDAY Morning Men's' Bible study
8:00 AM – 9:00 AM each week a group of men gather for conversation, study and prayer. Study is based on lectionary texts that are used in worship. All men are welcome!
Men's Annual Fishing Retreat:
If you have your 2020 calendars and are making summer plans, take time to flip the pages to July and pencil (only God writes in ink) in the dates for the 2020 men's retreat. July 13th will be the day we depart Salem for four enjoyable days at Kec's Cove resort on beautiful Kabetogama Lake. The friendly crew at Kec's will once
again be providing us fine dining, comfortable cabins and a room for our evening discussions.
Reserve your space on this much anticipated annual event by getting your $50.00 deposit into the church office now while you are in the summer event planning stage. Click here for Registration Form 2020
The following pictures were taken at the 2019 Retreat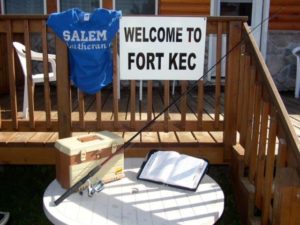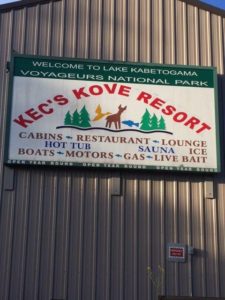 Women's Ministry
WEDNESDAY MORNING
Bible study 6:30 AM – 8:00 AM
CIRCLE BIBLE STUDY GROUPS
Sarah Circle
– meets at the church the second Thursday of each month 9:30 am. Some of the projects the group has worked on include: decorate the church for Christmas, host the Advent Luncheon, helped with Summerfest events, participate in the Piecemakers Quilt Group, volunteer at Salem West. Contact the church office for more information. We always welcome new members.
ANNUAL WOMEN'S RETREAT
The 2nd weekend in October of each year. Bay Lake Church Island, Deerwood
This is our 2019 retreat group of ladies