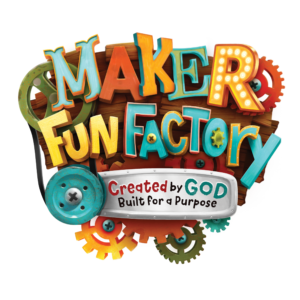 Dear Parents:
Send your kids on an imaginative, impacting adventure!
At Maker Fun Factory VBS, kids discover not only that God made them the
way they are, but for a purpose too. Maker Fun Factory is filled with incredible
Bible-learning experiences kids see, hear, touch, and even taste! Sciency-Fun
Gizmos™, team-building games, cool Bible songs, and tasty treats are just a few of the standout activities that help faith flow into real life. (Since everything is hands-on, kids might get a little messy. Be sure to send them in play clothes and safe shoes.) Plus, we'll help kids discover how to see evidence of God in everyday life—something we call God Sightings. Get ready to hear that phrase
a lot! Your kids will also participate in a hands-on mission project, through a program called Operation Kid-to-Kid™, that will let the kids in our community show God's mighty love to needy remote villages in Peru.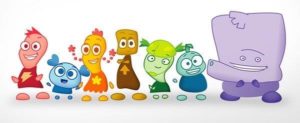 WHIRL–A new spin on Sunday School. Scripture based lessons with engaging animations that help kids relate the Bible to their lives for Pre K-Grade 6.
SUNDAY SCHOOL

will begin September 11, 9:15 a.m. – the same day we will have a Backpack Blessing at both services (8:15 and 10:00 am.) We will meet for an opening in the double classroom. Class will go until just before 10:00 am. There will also be a congregational potluck The Little Lutheran Potluck — FOR ALL AGES.
LEGOS! LEGOS! LEGOS!

Wednesdays at 3:30-4:45 p.m.

in the fellowship hall beginning on January 4..

We are looking for Legos and kids & adults who like playing with Legos! If transportation is needed, parents need to make arrangements with Schiffler Bus Company to see if there is room on buses coming to Deerwood. The Learning with Legos will involve academic and faith based learning (and a snack of course!) I was thinking it could be a draw for kids in the neighborhood (as well as our own kids.) I have ordered some resources and talked to a couple of people about being involved. Are you interested? Do you like kids? Do you like to build or create things? Are you available for 60-90 minutes on Wednesdays this school year? Are you interested in helping to launch a Learning with Legos Club? IF SO, please contact Connie Lou.